Casement windows in New Jersey are usually hinged on one side and opens in the same manner as a door. Most casement windows use a crank mechanism of opening and closing which holds the window in almost any open position.
There are some casement windows use a pivot instead of a hinge and the window opens from a point approximately 25 % of the width of the window. Because of the mechanical cranking mechanism, the window can be closed very tightly against the elements for your New Jersey home.
A well designed casement window in New Jersey are the best defense against air ingress if you require a window that opens. With casement windows the screens must be placed on the inside of the window frame. You can count on the expert New Jersey home remodeler at Markey Windows, Doors, & More for professional window installation and replacement windows whenever you need them
The windows you choose for your home say so much about you and your sense of design. Alside knows how important they are. That's why every casement window is created by a team of experts who bring together extensive experience in design, and engineering, to manufacture superior products that are beautiful, energy-efficient and highly functional.
Our New Jersey Casement Window Services
Looking for a Trustworthy Window Replacement Contractor?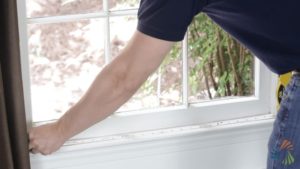 When it comes to hiring a Branchburg window contractor, you have to be a bit cautious about who you choose. It may seem like all
Read More »