Sliding Doors in New Jersey
Old sliding doors can be a source of significant energy loss for homeowners. They cause excessive energy losses because of their large area of clear glass and metal frames which allows the cold through in the winter and the heat through in the summer. Ice may form on the inside of the doors on cold winter days. Our doors offer many options and are constructed to eliminate the problems of your old patio doors.
Markey Home Remodeling offers sliding doors with some of the best air infiltration ratings (meaning the lowest amount of air infiltration) in the industry along with the lowest U-factor ratings that even exceed ENERGY STAR standards. Some of the ways this is achieved is an interlocking panel where the operating door panel meets the frame. This, along with features such as 4-point multi-locks, creates an almost air-tight seal while offering enhanced security measures. Fusion-welded multi chambered vinyl frames with foam filling also provides a better insulated door than older, outdated, models. 
Almost all new sliding doors feature ENERGY STAR glass packages to help cut down energy cost and make homeowners feel more comfortable in their own home in both the winter and summer months. Features such as mini-blinds and grids are also available. You can visit our showroom to see all these options on our full size door displays.
Looking for a Trustworthy Door Replacement Contractor?
Get Your Sliding Doors Today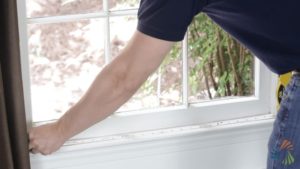 When it comes to hiring a Branchburg window contractor, you have to be a bit cautious about who you choose. It may seem like all
Read More »