Entry Doors in New Jersey
Your New Jersey entry door is the first thing people notice when entering your home. You want your entry door to be welcoming and add to the curb appeal of your home. At the same time, you want your  doors to provide security and protection from the elements. Markey Windows, Doors, & More is here to help you install the perfect entry door for your home.
If you are shopping for a steel or fiberglass entry door, some important features that you should look for include:
The gauge or thickness of the steel or fiberglass
A reinforced frame and lock box
A multiple point locking system
Weather stripping.
Big box stores advertise brand name products but what you see is not always what you get. Many times the big box stores purchase the door skin from a brand name manufacturer but then use cheaper components to complete the assembly. This allows them to sell the "brand name" door at a lower price. The homeowner might think the door is a bargain but in reality, it's not the door that the homeowner expected. When cheap components are used, crucial elements of the door such as the frame, weather stripping, and saddle will fall short of the homeowner's requirements. Homeowners might also think they are buying a painted door that appears to be fully finished but in fact is only primed.
At Markey Windows, Doors & More we don't cut corners. We use only the highest quality materials to get the job done right. Fully painted, high quality doors installed professionally – and we work with you and your budget.
Looking for a Trustworthy Door Replacement Contractor?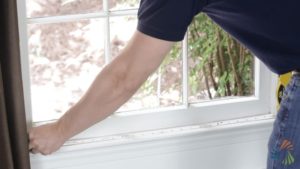 When it comes to hiring a Branchburg window contractor, you have to be a bit cautious about who you choose. It may seem like all
Read More »