Exterior Home Remodel In Flemington, NJ
New Roof, Siding, Gutters, Entry Door, Window, Patio Door Installation in Flemington, NJ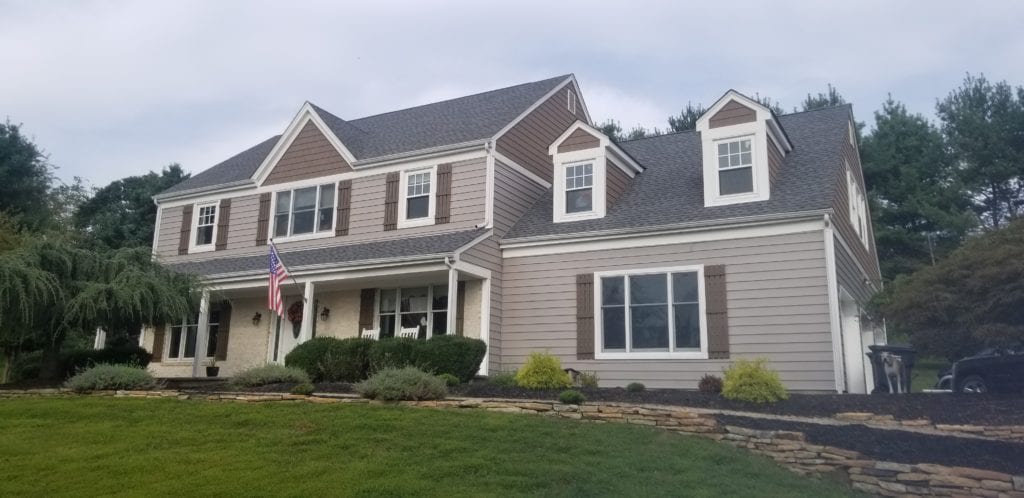 Flemington Exterior Home Remodeling
This exterior home remodel was completed by Markey, Windows, Doors & More in Flemington, NJ 08822. Pictured is the final result of outfitting this beautiful New Jersey home with a new roof, new siding, new gutters, a new front entry door, a new back patio door and new windows and shutters.
For the roof We used the Gaf Timberline HD roof in Pewter grey with Certainteed Architectural Shakes in Brown. The siding is 7″ Certainteed Ceder Plank in Grey. The windows are Okna Starkmark Replacement windows with Board & Batton Shutters in Brown. We used the Provia Entry Door with sidelights for the front door, and the Marvin Sliding Patio Door for the back patio.
All of the materials used for the renovations are approved by the Homeowners Association (HOA) and meet all requirements in Flemington, NJ 08822.