Union County Replacement Windows
Is it time to purchase new Union County replacement windows for your home? Maybe you just purchased a new home and it needs new windows, or maybe your windows are starting to get old and worn out. Whatever the unique scenario is, it's always best to do your research and know your options before hiring a Union County replacement windows contractor for the job. You may not even need to purchase new windows. A good contractor will help you down the right path to perfect windows. When replacing your windows, it is important to use the most reliable and knowledgable company available to you. You definitely don't want to settle for the first company you come across online! Before you even think about hiring a contractor for you window project, make sure they are enthusiastic about their work and knowledgable in their field. If everything seems good on the surface you can proceed to ask some questions that will let you know whether or not the company is a good choice. Today we will be going over some questions to ask a Union County replacement windows contractor and then take a look at how you can know if you need new windows in the first place.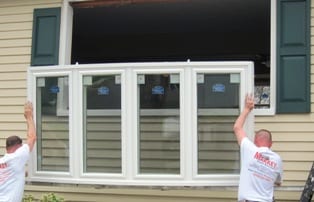 Although this may seem like a strange question to ask, getting the complete address of the company can be an important factor in determining a company's time in business. If a post office box is given, ask for a full street address as well. Try to hire a contractor that has an office nearby. The likelihood of better replacement windows service and quicker response time is greater if the company is based near your home.
A contractor should carry comprehensive liability insurance and workers' compensation insurance* to protect you in the event of an accident. This can be verified by asking to see the contractor's certificates of insurance (workers' compensation and general liability). Let the contractor know you want current certificates sent to you by the insurer before the job is started.
Contractors may also carry other kinds of insurance including health, life and auto insurance. Bland assurances of insurance coverage may refer to these. Don't be confused. Ask for proof of general liability and workers' compensation* coverage for window projects.
Contractors who carry insurance and follow safety guidelines on fall prevention endure higher job overhead costs. These expenses could be the cause of price variations between contractors who follow the standards versus those who ignore them. Beware of uninsured contractors. Contractors who do not carry insurance will most likely be cheaper to hire as they do not have the large insurance premiums to pay. Workers' compensation premiums can increase wage costs from about 20% to as much as 100%, depending on the state.
Beware! Some Companies Don't Carry Insurance at All!
Not a full-time contractor

Operates as a partnership or self-employed without employees

New in the business

Can't afford insurance premiums

Doesn't stand behind work

It is up to you to determine if it is worth the risk to hire a contractor who does not carry insurance.
Does The Company Hold The Right License?
When you pose this question, you are, in effect, asking if the contractor is licensed by your state and/or city.  Not all states require contractors to be licensed. If your state does license contractors, then he might have had to pass a written examination in his specialty, although few licenses make this a requirement. A number of cities also require professional licensing. Check with your local licensing authority for details.
A contractor may also answer this question by telling you he has a business license. However, a business license is a tax requirement only and is not directly relevant to the contractor's competence. Several window manufacturers offer a variety of programs to professional contractors that establish their credentials as a knowledgeable window company. Homeowners can view a contractor's credentials as another indicator of their degree of knowledge, professionalism, and dedication to the construction trade.
How Many Years Has The Contractor Been in Business?
Needless to say, longer is usually better. Under three years may signal an unstable business or one low on the learning curve. On the other hand, everybody has to start somewhere. References will be helpful to double check any business, and especially important when dealing with a new business. A newer business may have a great future but it is only reasonable to be more careful when considering its referrals. The failure rate of small businesses in the first three years is very high.
Do The Replacement Windows Come With a Warrantee?
Typically, contractor workmanship warranties are for one year or more. Longer warranties are not necessarily more valuable than shorter warranties. The length of the warranty is less important than the intent and ability of the company to stand behind his warranty. That is best evaluated using customer referrals. Ask his customers specifically for information about these four things:
Did he perform his work on a timely basis?

Was he responsive when asked for information and changes?

Did he act as if he cared about the customers interests?

And finally, would you call the company trustworthy?
The company should warrant their workmanship. The manufacturer, on the other hand, warranties the windows against defects in manufacturing. Thus, two warranties will cover the new window system. Understand them both. Ask for a copy of the manufacturer's warranty pertaining to the specific window products you are considering.
Union County Replacement Windows Problems
Usually, problems of either workmanship or material show up very quickly. Therefore, the near-term warranty given by the contractor or manufacturer is more important than the warranty coverage during the later years of the warranty. Even if problems of workmanship arise after the workmanship warranty has lapsed, a reliable contractor usually will want to stand behind his work.
Knowing When get New Windows
Many times, it can be difficult to know when to upgrade your  Union County windows; especially in a newly purchased home. Fortunately, there are some things you can look for that will help guide your decision. If your windows are extremely difficult to open and close or you notice drafts around your windows, you should consider having them inspected or possibly replaced. Unfortunately, homebuilders often neglected to invest in quality windows until very recently. This resulted in many homes with bad windows. However, even if your windows aren't drafty or difficult to open, improved energy efficiency is a significant reason to upgrade. Depending on how inefficient your currency windows are, you may actually save money in the long run because of your lower energy costs. On average, homeowners save 25-30% on their heating and cooling costs after upgrading their old windows.
When to Repair and When to Replace
The decision about whether to repair or replace windows can be challenging. Just like any home improvement it is important to think about costs and potential savings in the short term as well as over a longer period. The importance of properly maintaining the windows in your home cannot be overstated. That's because in addition to potentially affecting the value of your property, the condition of your windows can have a significant effect on both how comfortable your home is to live in and how much energy is required to heat and cool your living areas. Unfortunately, diagnosing window problems isn't always as obvious as it may seem. For example, sometimes windows stick due to paint, heat expansion or a broken handle. Let's talk about how to identify whether to repair or replace your windows:
Inspect your windows for any evidence of rot (timber windows) or other damage to the hinges or jambs (the vertical parts that form the side of a window frame). Check if any of the seals are damaged, and if there are any chips in or around the glass. Windows can be damaged by the sun, water and other weather exposure, so check for signs of this. If your windows have any of these faults which are compromising their performance or aesthetic looks (or both), you may wish to consider getting them repaired before any further damage occurs.
Can you open and close your windows? Sounds obvious but sometimes windows stick due to paint, heat expansion or a broken handle. Also, check if there are any noticeable drafts. All of these are signs your windows may need repairing.
On rare occasions you may see condensation between the panes of a glass sealed unit where the seal of the sealed unit have failed. If so, the sealed unit will need to be replaced and this can usually be done quite easily by your window repair company, although they will have to take exact measurements to order a sealed unit specific to size.
Older homes – It's hard to decide if you should replace windows when they are original features of the house. If your home has stained or leaded glass, then replacing them could reduce the value of your home. However, the good news is that these days window manufacturers can replicate your stained or leaded glass in energy efficient replacement windows.If you have a home which is centuries old and listed, then you will need to obtain permission from your local planning officer for any changes. There are specialist glass suppliers who can locate such replicas of centuries-old glass if pieces are damaged.
Top Provider of Somerset County Replacement Windows | Markey LLC
If you need Union County replacement windows, and are looking for the best contractor in your area, contact Markey LLC today. For well over 20 years, Markey LLC has been providing the most reliable Union County windows throughout the entire county with pride and integrity. Markey LLC provides many Union County windows services including bow & bay windows, casement windows, double hung windows, garden windows and more! Contact us or visit our Union County replacement windows showroom to see full size displays of our products.