New Sliding Patio Door
Replacement in Hillsborough, NJ
Okna Elegante 9′ Sliding Door in Hillsborough, NJ 08844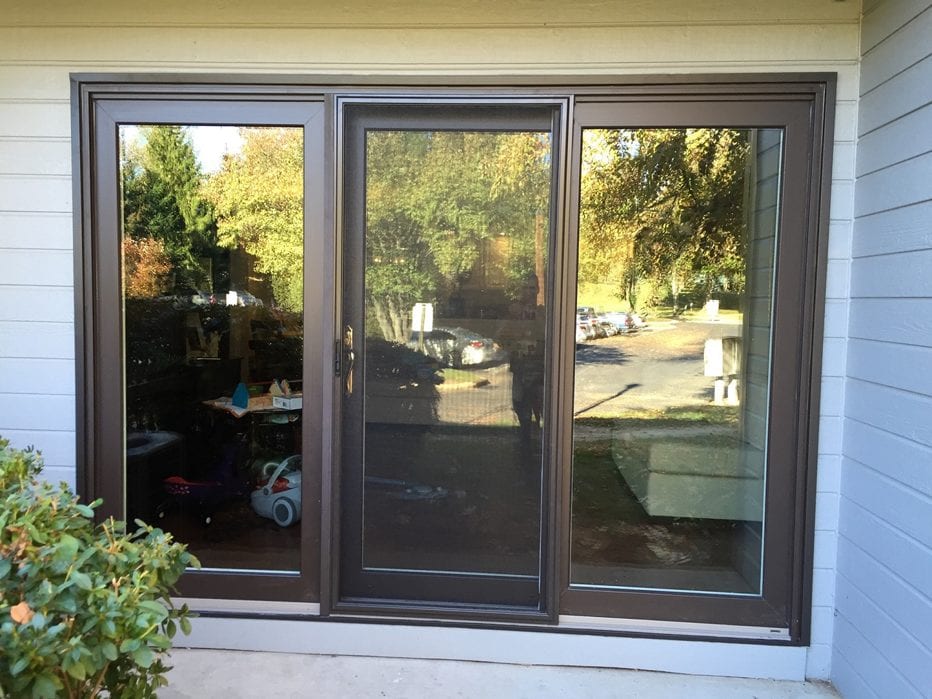 Brown Patio Door Replacement by Markey Windows, Doors & More
This Brown Patio Door Installation was completed by our door installer in Hillsborough, NJ 08844. Pictured is the final result of outfitting this beautiful New Jersey home up with a brand new Okna Elegante replacement patio door.
For the sliding patio door replacement, we used one Okna Elegante – a 9 foot sliding vinyl patio door. The Okna Elegante is fitted with multi point locks and insulated frames & door panels. The Elegante is also constructed with Low-E glass and filled with argon gas to combat both hot and cold weather. Low-E – or low-emissivity – is a metal oxide coating applied to the window glass during the manufacturing process. Low-E minimizes the amount of infrared and ultraviolet light that comes through the window – without limiting the visible light that comes in. Coupled with Argon Gas-filled double pane windows, Low-E glass patio doors have superior thermal insulating properties.
All of the materials used for the renovations are approved by the Homeowners Association (HOA) and meet all requirements in Hillsborough, NJ 08844. Markey Windows, Doors & More offers exterior and interior home remodeling services to the New Jersey Area.